Reaching new markets using translations as a bridge
Globalization is perhaps one of the key defining aspects of the 21st century.
We live in a world where people are more connected than ever. In the Services sector companies have clients and competitors all over the world.
In the product sector value chains go across continents, and in the manufacturing process of even the simplest of products you can find out that the different components were created in different countries and the final product assembled on another country altogether.
Globalization – An ongoing process
All of this is common knowledge, to the point that some people believe that Globalization is something that has already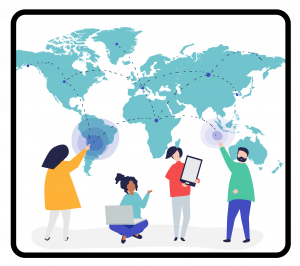 happened. Something that is old news.
The truth is that Globalization is far from over. It is an ever evolving and shifting process in which national and corporate interests.
Take, for example, China's Belt and Road initiative, which aims to connect large parts of Asia (including the often-postponed Central Asia) with Europe. This initiative is the biggest transnational infrastructure project in modern times.
Europe in turn, is once again looking at Africa, both as a potential market, as well as a place where it can install factories. There are several trade corridors proposed, some modest and achievable, and others more difficult and challenging, but with greater potentials for profit.
There are many projects of this nature in several stages of development, which indicates that international integration is far from over.
The growth of eCommerce
We previously dedicated an entire article to the different options available for eCommerce. eCommerce has been an ongoing trend for a while now, but the pandemic has pushed it into the center of the world stage.
More people than ever are used to buying their products online and that number will only get bigger as new regions get added to the international trade networks.
A promising future – Reaching new markets
What does the future hold for you? It is hard to tell. But it is highly likely that, as new trade routes are open, your future clients and suppliers will come from new countries.

As you may imagine, doing business with a new country has unique challenges, here are some examples:
Working under a completely new Legal framework (which includes labor, health and safety, trade and tax laws).
If you are opening a new branch, this will require training and integrating your new staff to your company (which includes trainings, HR documents, healthcare documents, processes, internal policies, etc.).
Adapting your sales and marketing strategy to a new demographic (marketing material, sales agreements, a new website in the target language, ad campaigns, videos, etc.).
Onboarding new suppliers into your value chain requires bilingual contracts, and service-level agreements in their target language. It also involves processes and regulations that will allow you to coordinate work effectively with your new partner.
In all the examples above you will have to deal with linguistic challenges and it is key to have a partner that can help you navigate them so you can focus on your core business.
At Australis Localization we have over 120 language combinations and can work with many subject matters. Our translators are trained linguists, and experts in the target languages.
We can help you translate all the legal documents you will need, translate the healthcare plans of your new employees, help you with your new multilingual marketing campaign and, overall, give you peace of mind so you can focus on your main goals and not think about translations.
What is your strategy for the future? If you see the future as an opportunity, contact us today and let's talk about how we can support your plans for expansion.
IMAGES:
Globalization: Designed by rawpixel.com / Freepik
Reaching new markets: Globe Vectors by Vecteezy